THE BAREFOOT REVIEW: ADELAIDE, AUSTRALIA:
There's literary earnestness at Writers' Week and rowdy theatrical hi-jinx at the Unearthly Garden.
But in the quiet centre of town in a rather streamlined and elegant bar where people can sit in comfort with a fine wine or cocktail and some yummy hot nibbles, there is Greg Byron, performance poet.
He's a wonderful wandering bard and, of course, there's no better bard space than a bar space.
Byron rolls up in a wonderful costume, waistcoat and long buttoned dress coat, very period and English and also very warm.
He's here from the UK under the umbrella of the Joanne Hartstone season so one knows he has class.
He has a little black book which is full of his poems. He picks and chooses among them, sizing up his audience and the mood of the moment. He skips over Brexit poems and things he deems dark and dull. The US election, there's a spot of fun. He reads a poem about the orange man. He has a poem about British political apathy, but he can't be bothered to read it.
The audience is liking him already.
He's a personable poet and has something of the actor about him. It turns out that he has had an acting career but that he has chosen life as a troubadour of rhyme and perhaps reason.
His poems have a bit of a satiric edge to them. A political whammy sometimes. Whimsy. Wit. Nostalgia. Surprise, surprise, even a Fibonacci poem. That feels like a first. It's a ripper.
There's an Attenborough poem, an eco-poem on the polluted sea, a Postcard from the Beach in Spring and there are recorded sound effects operated by Anna Thomas, behind the bar of Treasury 1860.
Just for variety, he throws in some prose.
It is easy to settle back and let Byron regale with his North England accent.
Greg Byron is his character name. The actor behind it is Gavin Robertson and one just has to admire the very essence of him, wandering the world with nothing but a talent and poetry. It's a perilous living.
But he certainly breathes good and mindful air into the Fringe.
And. methinks, he may just be first poet ever to rhyme "Aristotle" with "golden wattle".
Samela Harris
 4.5 stars
BROADWAY WORLD: ADELAIDE, AUSTRALIA
Reviewed by Barry Lenny, Wednesday 7th March 2018.

In a very different type of production, defying classification in any of the usual genres, Gavin Robertson appears as his alter ego, the poet and spoken word performer, Greg Byron, in Wordshow. It is a unique blend of theatre, cabaret, spoken word, and comedy but, however you care to try to classify it, the result works incredibly well.

Greg Byron is a cheerful, hearty fellow and many of his poems are very funny, but there are also a few poignant pieces, and some political comments. Robertson was on an intensive writing course in America a while back and the play that he intended to write just wasn't coming, in part due to his anger at the Trump administration. Near the end of the residency, he began writing poems, then realised that he had a show on his hands. The invention of Greg Byron was the key.

This has opened up many possibilities and Robertson is now adding new poems all the time. Every day in politics, alone, provides inspiration for more satirical verses. The potential is vast.

As Byron, Robertson deals differently with each poem, lending his abilities as an actor to individual interpretations of the poems. A regional English accent, a particular way of phrasing, adding pauses, varying emphasis on certain words, every poem is treated to its own particular style of delivery. He even translated on from English into Australian, and you will love the one titled Apathy. Thanks to Anna, busy at the laptop computer, some of the poems even have background sound effects and music.

Byron carries his journal, flicking through it, turning over the odd loose piece of paper caught between the pages, and deciding which poem to recite next, so you might want to make a couple of visits as it seems each night might be a little different. The hour slips all too quickly by, though, and Byron leaves us wanting more.

Books of the poems were brought out from England with him, but the last one was sold after the performance that I attended. They were expected to last for the entire season and, possibly have a few left to take home. This attests to the instant popularity of his work. Not all the merchandise has gone yet, so you can still purchase a printed tee shirt, if you are quick off the mark.

If you want to have a satisfying and memorable Fringe, seek out the productions that don't entirely conform, because there is where you will find the little gems that others miss. This is definitely one of them, and you still have a good chance to catch it, as it is running at Treasury 1860 at 8pm most days to the 18th March, and also at 5:30 at Rastelli at the Stirling Fringe from 9th to 12th March. Be sure to book to avoid being disappointed.
Slooshy Wordshow
BROADWAY BABY: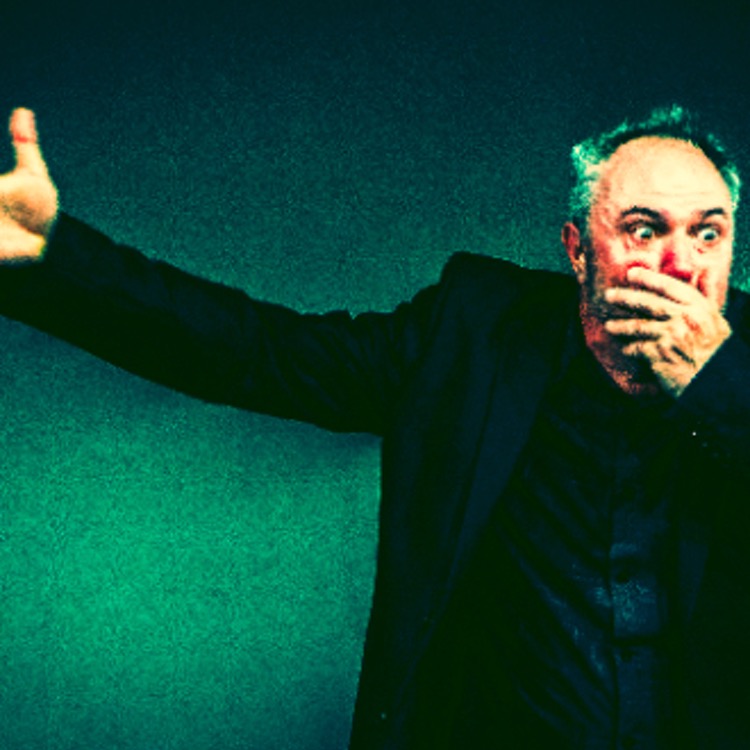 A chair, a poetry book, a man, and a bottle of water to wet his whistle – other than these there is no set and the stage is bare.
In his Slooshy Wordshow Greg Byron departs from physical theatre for the evening to give a performance of spoken word poetry, ranging in theme from science and quantum physics, to Brexit, to memory, to what it might be like to be a woman, and even on this particular evening, just 24 hours after the terrorist attack at London Bridge, to the Manchester bombing.
Byron is engaging, warm and attentive, checking for yawns, asking us who is a parent, who has cats, and offering each poem as if we were old friends sharing an evening together.
His reading is accomplished, and yet humble. The words rhyme easily and wittily and they're delivered with a Northern twang that's at once strong and gentle. At the end of each poem I find myself sighing, ahhing or mmming along with the rest of the audience. There's something about good poetry that makes you recognise things more clearly, and at the end of the hour I feel like my life and the world have been thrown into sharper relief. I've made a mental note to tell my kids to visit their remaining grandparents more and say they love them. The poet says it'll be too late one day.
There are also character sketches, cleverly observed lines about some of the eccentric individuals from a village he used to live in, and some ingenious 55 (not 54 and not 56) word stories.
It was hard to clap after every piece, not because it wasn't moving or skilful, but because it nudged the heart-strings and pushed at the mind, in a way that made me want to ponder rather than immediately respond.
If you like your poetry performed and your evenings good-humoured and reflective, then this is the show for you.
The Rialto Theatre
Posted by: The Reviews Hub - London in Brighton Fringe,
May 28th 2017
Reviewer: Simon Topping
Greg Byron, the performance poet persona of actor, writer, director and producer Gavin Robertson, heads to the stage swathed in darkness; he steps in a slowly dramatic way. The lights switch on suddenly to spot an avuncular face resting his eyes upon us. Stood, with writers notepad in hand, Bryon softly begins the show.
With vocal rhythms often reminiscent of radio four regular Ian McMillan, Bryon regales the audience in a wide ranging of topics from his life's minutia to social commentary; with 55-word short stories and comic nonsense. He promises us early on to punctuate the performance with some acerbic material, but only a smattering.
Byron is a masterful performer; with a hypnotic delivery that gently lulls the evening crowd. The portraits of people from an unspecified rural village are very funny and have us laughing hard; as does the very short poem about apathy.
A small selection of science poems, including one about the Fibonacci sequence, are an interesting listen.
The most impactful poetry is about the injustices and inequalities that lie with the UK today; four million in child poverty and a self-serving Tory government. "We are All Daniel Blake now", Byron angrily exclaims. However, this is by no means a dour evening, it is engaging, warm and funny; well worth an outing.
Genre: Poetry-based Theatre, Spoken Word
Venue: Rialto Theatre
Festival: FringeReview UK
Low Down
"It's a look at all sorts of things – my 55-word prose 'word sketches', character portraits, science, and ignorance, the quest for knowledge, the current state of the world around us, confusions and cruelties…" – an evening of poetry from the legendary Greg Byron.
Review
Welcome to an evening of like poetry; an hour or so in the company of Greg Byron, middle aged and ready to share his musings on life, on mortality, on our troubled present time of social media, of let down and even, occasionally, of hopefulness. A poetry gig, a spoken word variety show, a cabaret, this is low key, comedic, theatrical but mostly direct, spoken word performance.
Meet a performer with the courage to be gentle, yet that gentleness accompanies and delivers a power – a power in the words and in the delivery. Greg Byron is a creation of actor and writer Gavin Roberston, an amiable companion for the evening, he chats with us, gives us a wink and a double take, and yet is a soul who has lived, and gathered these poems, these observations, reflections along the way. They are, for the most part, rhymers, with sharpish meter. The rhythm allows him to protest, to ponder, to observe the quirks of life, and also to play with that rhytmn cleverly and add accessibility and entertainment to the proceedings.
No harsh poetry slammer needed here, this is direct performance, all the more impactful for its bare simplicity. A man, a set of poems a Dave-Allenesque stool and some clever, slooshy word play.
This show could well be a hidden gem at the Fringe. A gem it is for its clever selection of words, its skilled delivery, its courageousness to be gentle and allowing word-play and word power to play out as a piece of live literature that is throughly entertaining; those words reach us with ease and effect. But this show of words doesn't deserve to be hidden. It will provide value and enjoyment for both spoken word and theatre audiences. Even a comedy audience seeking out a gag-free but warm smiling hour will be well served. Highly recommended.
Published by Paul Levy